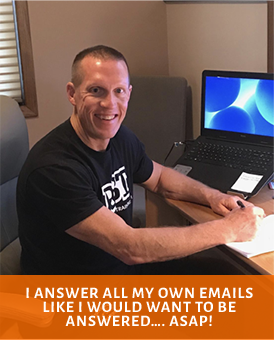 Hey Band Gym members, I am only an email away and ready to help make sure your Band Gym experience is nothing but successful.

I have set up this members only contact page to come directly to me.  Think of it like my Band Gym office where my door is always open to you.  Sending an email is like you knocking and coming on in to chat.   Just like if we were in an actual physical gym.   
I will answer your email the same way I would like my emails to be answered.. Friendly and Fast.  I generally respond to Band Gym Members emails the same day Monday through Friday. If it's a weekend,  I try to reserve that for my wife and children but I promise to get back with you first thing Monday Morning if not before.
As a Exclusive Band Gym Member, if you have a question about fitness, training, bands or whatever, I am here to help you find an answer that will get you better.  However you are also welcome to let me know how you're doing as a Band Gym member or how I can make things better for you in The Band Gym.  I really enjoy hearing about your success so please share.  It's how we all get better.  
Look forward to hearing from you.

Coach Dave
Just fill out the form below!
You can also call or write to us!
Phone:
888-215-8932
Mailing Address:
W161 N11115 Meadow Drive Germantown, WI 53022